Tarrant SE Services In Brief
Professional Lightning Protection - Over 40 Years Experience
Tarrant Specialist Earthing specialise in the lightning protection installation and steeplejack industry.
We are a family run business established with over 40 years in the industry. We are based in Hunston, near Chichester in West Sussex and serve the whole of the UK.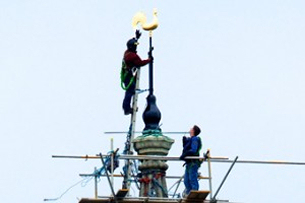 As a steeplejack and rope access company there are many uses that Tarrant SE's skills can be utilised for. Here's just a selection:
Lightning Protection & Installation Services
Surge & Earthing Protection
Fall Arrest
High rise inspection and maintenance
Photographic and video surveys to locate defective areas on all highrise structures
Application of sealants and installation of stainless steel bolts and safety anchorings in extreme locations
Specialised quinquennial surveys on all places of worship to Diocesan surveyors specifications.
Restoration of towers, domes and spires
Extensive Experience
With the experience and reputation of Tarrant Specialist Earthing, it may come as no surprise that we are regularly contracted to undertake the design, manufacture and construction of many steel fabricated installations such as free-standing chimneys, ducting, gantries, walkways and various steelworks to meet other industry needs.So, whatever your needs, talk to us.
We never compromise, why should you?