Lightning never strikes twice in the same place... OR DOES IT?
We're all familiar with this old adage but the chances are, if you have a tall structure, lightning will strike it on numerous occasions.
Our comprehensive inspection service will ensure your building receives an adequate level of protection which we will design and install to make sure the powerful electrical charges are dissipated safely into the earth. Regular annual checks and our "Earth & Continuity Test" will provide you with a fully compliant and certificated system in accordance with the current BS 6651 Regulations.
More info on Lightning Protection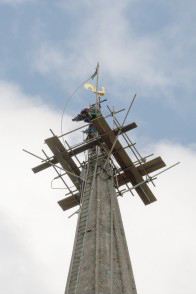 DESIGN - INSTALLATION - MAINTENANCE - INSPECTION - TESTING
Periodical inspection of any type of chimney or cooling tower is essential. Early diagnosis of any defects ensures remedial work required is kept to a minimum. Less outlay, less fuss and less expensive "down-time". Many of our clients enjoy protection of our specially designed three year inspection plan. backed by a full video or photographic survey to record the problems, this regular planned service helps you keep on top of crucial maintenance which you can plan into your production schedule well in advance. Each and every inspection plan is designed to meet the business needs of individual clients so we're working with you all the way.
More info on Inspection, Testing & Maintenance
Adapting to your changing business
Hopefully, as your business grows and expands, so does your infrastructure. Unwanted and redundant chimneys need to be demolished and cleared and Tarrant SE's highly skilled steeplejacks will ensure this is done with minimal disruption which once again meets the British Standards agency requirements for your peace of mind.
More info on Inspection, Testing & Maintenance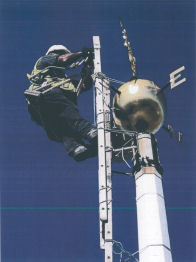 Replace & Refurbishments
Our professional steeplejacks can replace and refurbish hard to reach flagpoles and weather vanes using safe methods.
We recently refurbished a church weather vane with gold leaf as shown in the photo.
Lightning Protection in Sussex
Tarrant SE are leaders in Lightning Protection in Sussex but serve all areas of the UK. You can trust us to provide the most professional services in the industry.